I took a trip down to American Apparel in Santa Ana last week with the boyfriend because I've been wanting to go to the store since like, forever. I ended up picking up more stuff than I anticipated.
Baby Rib Mini Shift Dress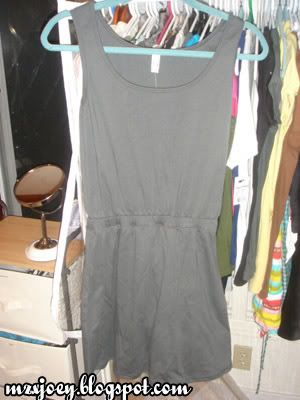 It's so cute, right?! Eh, well you can't really tell when it's hanging there, but it's super cute. It's made of cotton, so I think it'll be really comfortable for those hot summer days when I don't feel like wearing jeans and a shirt. I wore it this past weekend to the movies with a cinch belt, and it was too cute. Here's what it looks like on the model:
(This is picture that best shows the style, since the other ones are too dark)
Interlock Pencil Skirt in Sea Blue
Trust me, it's SO MUCH cuter on! I ordered this online
months
ago, but it never came (and never got charged!) because of some "factory" problems. I smell bullshit. But anywho, since I have short legs, I have to wear it fairly high-waisted, but that's exactly what I've been looking for. The material is quite thick so it hides most of my flaws (love handles galore), and is super comfortable. It retails for $32, and comes in a wide variety of colors.
Unisex Satin Charmeuse Night Jacket
I didn't take a picture of it because I left it at the boyfriend's house, but here's the stock picture of it. I got it in Navy, like the picture, and it's soo cute! It's good for summer nights because it's sheer, so it provides minimal but sufficient warmth. I'm not sure if it's worth the $45, but I definitely love it!
--
Another haul from Urban Outfitters (: I bought this stuff before their "secretsale" they had last week (LAME!), but I love it anyways. I even bought more! Hehe. It came yesterday, but I have yet to take pictures.. I should! Because all the shit I got is soooo cute!
Ruched Flap Clutch Wallet in Wine


Perfect size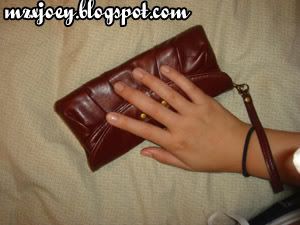 Cute color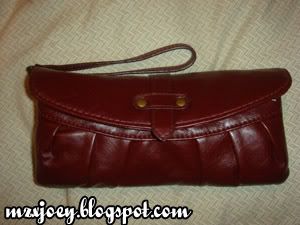 & holds the necessities for a night out without having to carry my big purses
Wrap Snake Belt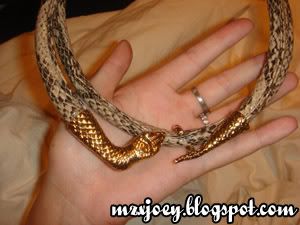 It's really cute and sort of unique (although it's mass produced "/), and I will totally wear this with a plain black dress or a white t-shirt.
&
Strappy Flip Flop Sandal in Black
They're super cute, right? But they're not exactly comfortable. I just really like them, though. They have a gladiator feel, but not really gross.
--
Also, from that vintage store I found my Gucci heels in, I bought two really cute belts.
A metal cinch belt with a heart buckle.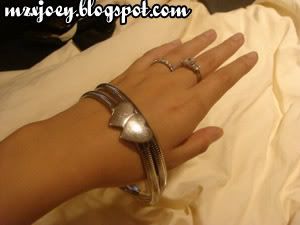 It fits perfectly around my waist, and is soo perfect for cinching dresses/shirts/stuff! For $6.99, you can't go wrong.
Black belt with a teal trim.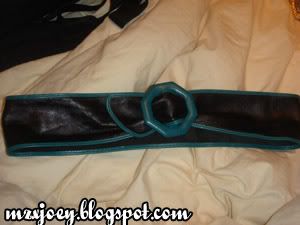 I thought this was really cute. Perfect length for cinching also. I got it for $12.
--
On another note, I went on an organization frenzy. I finally asked my stepmom for some AAA batteries, so I could finally start using my label maker. About a month ago, I went to Marukai (in Cypress) with my mom to buy stuff to organize my room with, and I sorted through all of my shit.
(Just FYI--I live in a temporary room right now. Our "big house" has been under renovations for over a year and a half.. and we won't be moving back in until November. So, my dad bought a small single-family house in a rush.. and somehow thought it would fit 8 people, lol. As a result, I got shoved in a corner office as a "bedroom." I never really settled in because I hate my room, but I finally decided to organize my stuff. I don't have any shelves except for a weird bookshelf thing that goes along one of my walls, where I keep EVERYTHING, and I mean everything. Maybe I'll take pictures of it someday soon.)
My cluttered-looking but organized area.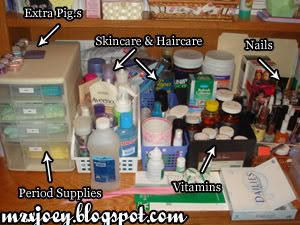 My nail stuff, and polishes that are organized by color.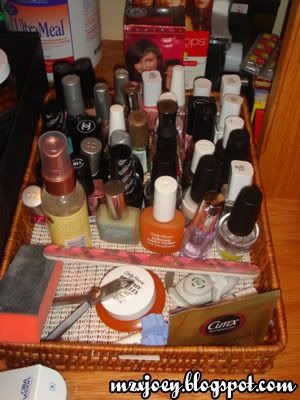 Then
I went on a labeling frenzy.
Palette 1 and 2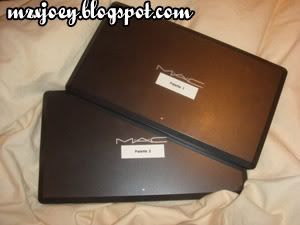 &I re-organized the colors so they make sense a little bit more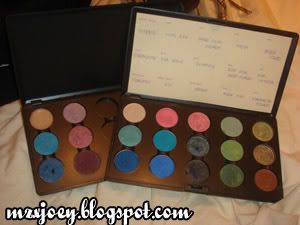 My little drawer for my "period supplies"
(I know, I switched "regular" and "super" because I realized they switch spots.. but I didn't switch them in time for the picture, lol)
My beloved new drawer stand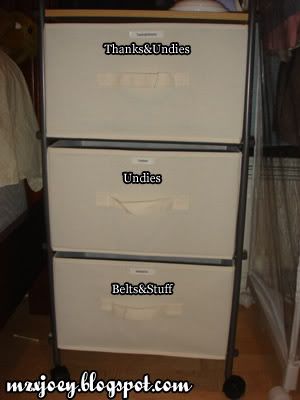 &I got little plastic boxes to organize my undies. I got too lazy to fold them up (the "normal" undies) since I had just washed them, but I usually do! It looks so much neater.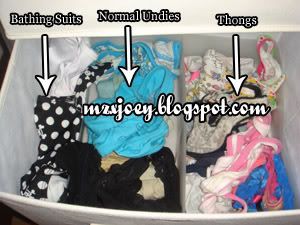 (Sorry if it's a bit graphic, hehe. But I loove my bathing suits--Paul frank polka dots, and a white crochet-looking one from VS)
I hope everyone has a fantastic Tuesday!
Ta-ta! (:<3>