I tried something new with my makeup this weekend. I strayed from my usual neutral look, teehee.
Horrendous bathroom lighting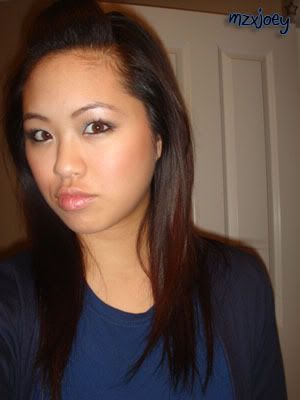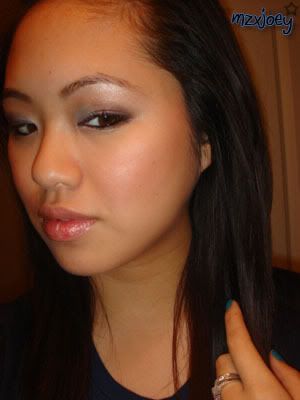 Again, with HORRIBLE lighting. Ugh. The colors don't even show.
Face:
Smashbox Photo Finish Primer
MAC Mineralize Foundation/Loose in Medium
Bare Escentuals Bare Radiance as blush
Eyes:
MAC Bare Study Paint Pot as base
Stila's Wheat eyeshadow all over lid up to brow, and lower lash line
Stila's Kitten eyeshadow as highlight and inner corner under eye
Stila's Punaluu duo light blue color on first 1/3 of eye
Stila's Poise eyeshadow in the middle
Stila's Punaluu duo shimmering black on outer corner
Katie B's Powderliner in Coal for waterline and tightline
Katie B's Fauxlash mascara
Brows:
MAC Lingering Brow Pencil
MAC Wheat Brow Finisher
Lips:
Chapstick Lip Butter
Stila Long Wear Lip Color in Darling


I've gotten soo addicted to makeup lately, it's pretty horrible. And I'm sure that all the makeup I want doesn't fit in my budget (crap!).. but every makeup addict needs new stuff to play with! heehee. I just ordered a MAC Pro palette for 15 shadow pans, I'm really excited. I'm going to depot my few MAC shadows I have, and start collecting new ones! Yay. Gosh, makeup is a really expensive habit "/

I promise to write more, if people start reading this! haha.