Listening to: The (NEW!) Offspring -- Hammerhead, and Death Cab For Cutie's new CD. I like (:
--
People keep asking me about my skin regime, because they think I have really nice skin *blush* haha
Personally, I
don't
think I have nice skin, but.. in reality, I've been pretty blessed and fortunate to not inherit any skin conditions (like eczema or rosacea) or acne (:
I didn't really take care of my skin for the longest time.. I neglected my skin because I never broke out and all that stuff.
All through high school, I actually never wore
any
foundation! Shocker. I only threw on some bronzer, eyeliner, and mascara everyday before school. I guess I fully took advantage of how great my skin used to be (albeit it was unknowingly, haha). Also, I was really inconsistent with washing my face, using toner, and moisturizing. In later years, my skin started getting blackheads, whiteheads, and occasional hormonal pimples. It also started to dry out a lot whenever my face got wet or anything.
Fast forward like 3 years and probably more than 15 different face products, this is what I do every night. I don't do it in the morning because I'm always in a rush ): But the one thing I
do
do is put on my moisturizer! haha okay, moving on.
1. I remove my makeup using Albolene Moisturizing Cleanser. It contains mineral oil, petrolatum, paraffin, ceresin, and beta carotene. My "big sis" gave me this product because she had an extra, and I love it! I used to use Ponds' Cold Cream, but it sometimes left some remnants of my Faux Lash mascara on my lashes.. only to find them under my eyes in the morning! Lame. So, Abolene magically seems to "melt" the makeup off my face. Literally, it feels like that, haha. And plus, if I'm too lazy to fully wash my face, I just use Abolene, and face doesn't dry out!
2. I wash my face with Neutrogena Clear Pore cleanser/mask. I love this stuff. It doesn't work magic, because I have found from experience that it's a let down to really expect much from a face wash. But, it's a really nice daily cleanser. My skin looks and feels really clean after I use it everyday, and it contains little tiny beads for a gentle exfoliation. And plus, it doubles as a deep cleaning mask! haha. All in all, I love this face wash. I'm almost done with my bottle, and that's a first! hehe. I usually just move onto another product I think will work.. hee.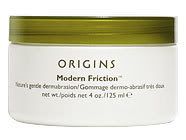 2.5 Exfoliate! I try to do this at least once a week because it really affects my makeup application. I bought Origin's Modern Friction, and I freaking
love
this stuff! It's a little abrasive, and my face turns a little pink after I use it, but it works wonders. It leaves my skin bright, clean, soft, and glowy.
3. I don't usually use toner, although I know I should. However, whenever I'm at my mom's house, I use hers, haha. She uses Proactive's. Somehow, I always felt that toner doesn't really do much. But when I
do
use it, it seems to take some stuff off that was resting on my skin that washing with my face wash
doesn't
.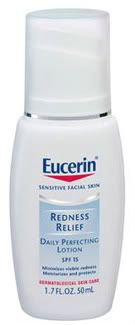 4. Moisturize! I started using Eucerin's Redness Relief moisturizer probably 3 months ago. I've got to say--I love the stuff. It has a slight sunscreen-y smell, but that's because it has SPF 15.. I don't mind (: Well, I use this because I have a little redness around my cheeks; I don't even know
why
I have it, but it's there. Annoying. It works a bit, but doesn't completely get rid of the redness. Albeit, it has reduced. Also, it's hard for me to find a moisturizer heavy enough because I have really weird super dry/oily t-zone combination skin. Surprisingly, it's not
too
heavy while at the same time providing enough moisture for me to last the whole day.
Well, I hope that people found this interesting, or helped someone!
Have a good weekend, everyone! <3