I decided to make my first video for YouTube of me putting my makeup on..... but I failed. Horribly. My first video was wayy too long, and I talked too much so I had to just put music over it. And my second one (today) somehow won't publish. I don't understand what's wrong with it.. it'll go about half-way through, then it'll restart the whole program. Lame.
Well, until I figure it out, here are pictures.
What I used--
Face-
MAC Moisturecover in NW 20
Smashbox Photofinish Primer in Blend
MAC Mineralize Foundation in Medium
Cargo Bronzer in Coral Beach
Eyes-
MAC Bare Study Paint
MAC Bare Canvas Paint Pot
MAC Shimmermoss e/s
MAC Submarine e/s
MAC Deep Blue Green pigment
Stila Kitten e/s
Stila Wheat e/s
Too Faced Starry-Eyed glitter liner
Katie B Faux Lash Mascara
Katie B Powderliner & black shadow
MAC Brow Pencil in Lingering
MAC Brow Finisher in Wheat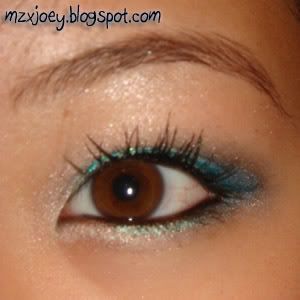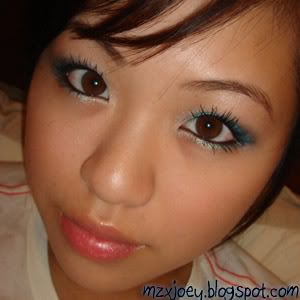 Oh yeah. I ordered samples from She Space on May 22nd and they're not here yet! I'm pretty disappointed. I saw on their website that they were out of their offices until the end of that week, I think until the 29th of May, but that doesn't explain why it's taken
this
long for it to get here. I'm pretty peeved. I emailed them tonight asking about the status; whether they sent it yet or not. I hope they write back soon.. I was really excited when I ordered them.
Cool Heat--
I'm really excited about this collection. I'm such a sucker for blues.. it's horrible. I really have my eye on Blue Flame, Cool Heat, and Gulf Stream e/s. The swatches I've seen on
Christine
and
Vanessa
's blogs look so pretty! And plus! MAC is having a friends and family sale! Have you gotten the email? Print out the coupon, and get 15% off your purchase until the 16th. If you don't want to run out to the store, you can get 15% off on their online store on the 16th, with free shipping! The offer code will be sent out on Monday. I'm not sure whether I'm going to stop by the store or order online because I want those three eyeshadows and maybe a blush. I don't have a
real
blush.. like from MAC. I have Bare Escentuals, NARS, and Cargo blushes, but I don't really really really like either of them.
Update on my videos--
My brother just gave me Sony Vegas Pro 8.0 (: So I'm going to be tinkering all night. Hopefully by the end of the night, I'll have a video up! hehe.
Happy Friday!