How was everyone's Memorial Day weekend??
I didn't really do anything except watch Indiana Jones on Saturday, and go shopping with my mom on Sunday (: I managed to buy a Gucci handbag on pre-sale! I didn't know they had those things! I got the cutest mini satchel for 299 when it's usually 350, I think. My mom got a tote for 399, when it's originally around 600. The only downside is that we can't pick it up until the collection comes out on June 2nd, but that's fine (: I'd rather wait a bit than pay full price! Whee. I'll put up pictures of it once I pick it up!
Anywho. I had two looks this weekend. One for Saturday, when I watched Indiana Jones (review on that movie in another entry) with my fambly and one for Sunday for shopping and Spaghetti Night.
First one is using blues--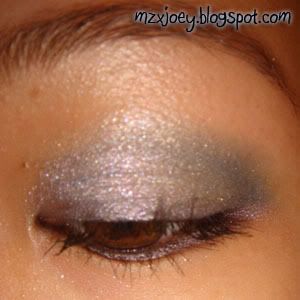 There's no full face shot ): Sorry. But here's what I used--
MAC Bare Study Paint Pot
MAC Cornflower Pigment on lid
MAC Submarine e/s on crease
Stila Wheat on lower lash line
Stila Kitten on inner corner
Katie B's Faux Lash mascara
Katie B's Powderliner (but it's smudged in this picture)
Anastasia Brow Powder in Ash Brown
And the second one is purples--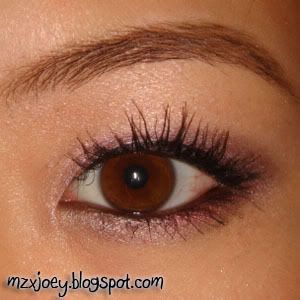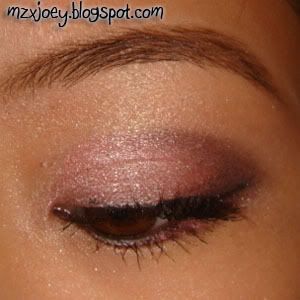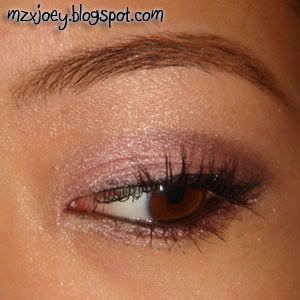 MAC Bare Study Paint Pot
Stila's Wheat e/s on inner corner
Coastal Scents Mystic Fairy shadow (inner 1/3)
MAC Lovely Lily Pigment (middle lid, middle lower lash line)
MAC Fuchsia Pigment (outer corner, outer lower lash line)
MAC Deep Purple Pigment (crease)
Smashbox Photo Finish Primer in Blend
MAC Mineralized Loose Foundation in Medium
BE Bare Radiance blush
Laura Mercier Secret Camouflage in SC-3 (testing this out)
Lips--
Smith's Rosebud Salve
Korres Tinted Lip Butter in Pomegranate
Face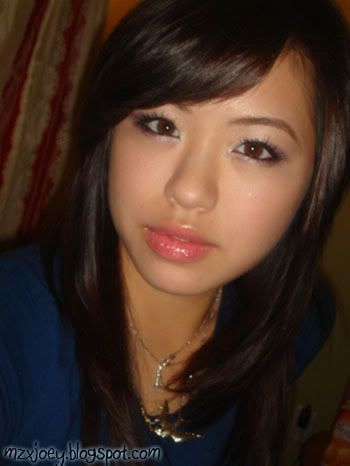 And a silly face ;p
Hope you enjoyed it! Yay.